A local Wisconsin farmer-owned cooperative
The Wisconsin Grass-fed Beef Cooperative is made up of over 220 Wisconsin family farms who believe that rotationally grazing livestock is the most natural way to raise healthy, tasty beef and pork products. For beef, we raise breeds proven to be hearty and thrive on an all-forage diet. For pork we favor the heritage breeds such as Berkshire and Duroc that thrive in their natural environment.
Low-stress handling and rotational grazing keep both the livestock and the pastures healthy. Antibiotics and growth hormones are not used on any livestock marketed through the cooperative. We do not use GMOs or pesticides.
Our well-managed pastures protect soil and water resources and provide wildlife habitat. We care about that, because we live here, too! Help us keep Wisconsin clean and green!
All management and business decisions are made by the farmers who own the cooperative, and all profits are returned to the farmers – not out-of-state stockholders. Join farmers from around the state who are bringing premium grass-fed beef to Wisconsin families! If this sounds like the way you'd like to farm, and you'd like ownership in a statewide brand, become a member-owner of the Wisconsin Grass-fed Beef Co-op.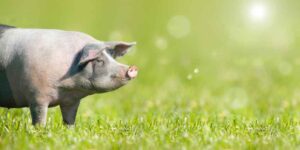 Join the cooperative and earn a 20%+ premium over conventional pricing for Wisconsin raised and finished 100% grass-fed beef cattle and pastured pork.
Local, farmer-owned cooperative – producer benefits include:
• Ownership in a regional brand of premium beef and pork products.
• Our producers help determine their own fair pay price.
• Patronage dividends and trucking allowance for finished cattle.
• Educational and networking opportunities.
• Buy and sell breeding stock, calves, and stockers among members with a standard protocol and similar genetics.