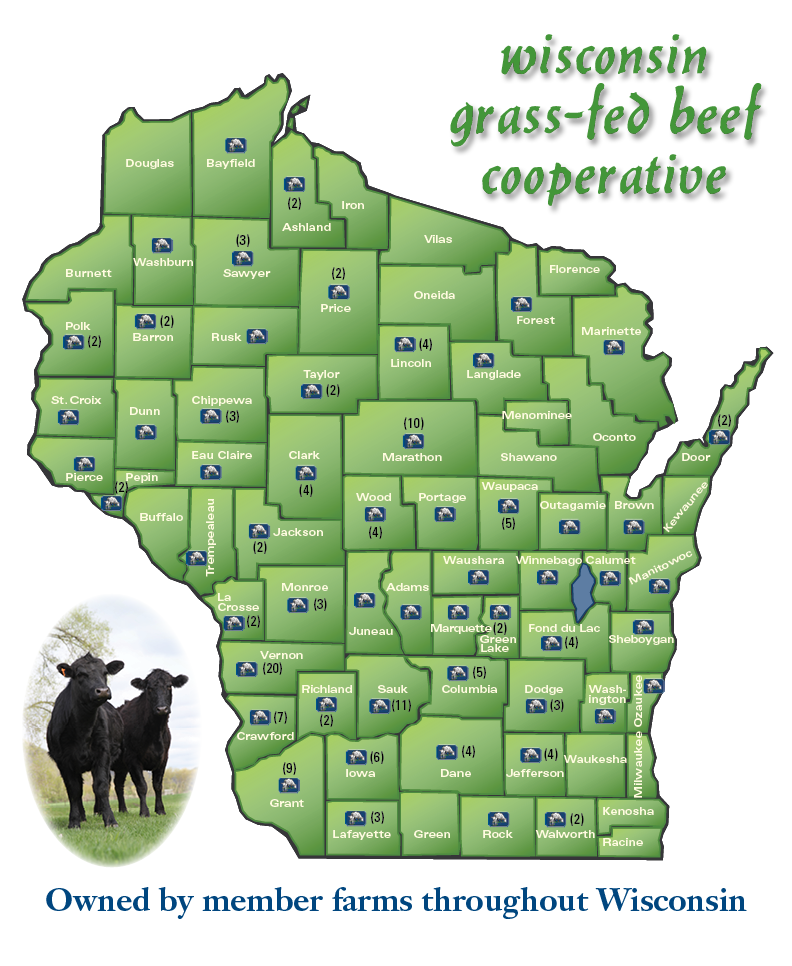 Wisconsin Grass-fed Beef Cooperative
Our cooperative of small family farms believes that cattle that use rotational grazing is the best way to raise lean, tasty beef.  Our well-managed pastures protect soil and water resources and provide wildlife habitat. We care about that, because we live here, too! Besides the traditional Angus, Hereford and other breeds, we raise old world British breeds such as Devon, Galloway, White Park proven to be hearty and thrive on an all-forage diet. Low-stress handling and rotational grazing keep both the cattle and the pastures healthy.
Wisconsin Meadows TM is the brand name we have chosen for to market our 100% grass-fed naturally raised beef and pastured pork products. Our aim is to bring locally produced grass-fed livestock to the closest markets, by establishing groups of farms across the state, and sending their cattle to nearby processors and on to restaurants and stores in the nearest markets. Our member farms are committed to producing high quality, sustainably raised beef for Wisconsin. Working cooperatively, we're able to keep the best interests of both our customers and the families who farm the land in mind.
We thank you for supporting us in our efforts by choosing local grass-fed beef for your table! Our farmers are available to speak to your group or demo our beef and pork at your local store. Contact us today to learn more about the Wisconsin Grass-fed Beef Cooperative!