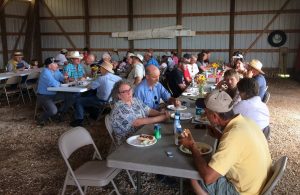 Membership in WGBC gives you an ownership share and voting rights in our cooperative, and you become an owner of our statewide Wisconsin Meadows 100% Grass-fed Beef and Pastured Pork product brand. You will receive a premium pay-price for your cattle, a trucking allowance, and best of all, your work goes into building the future of your business.
Come to our annual meeting in February of each year. Educational sessions and complimentary lunch open to all producers. Stay tuned for more details as we plan our next annual meeting!
For more information to our join our cooperative, contact us!  
Click here to learn about the WGBC Tiered Producer Pricing
Click here to learn about the WGBC Grass-fed Beef and Pastured Pork Protocols